PhotoViz functions are broadly divided into three categories: Image Correction, Content Access Control (CAC) and Active Photo (AP). Image Correction is a set of tools to automatically fix basic problems in digital photos and manage image files. Intuitive tools that adjust overall color, contrast, brightness and sharpness of the photos can be used to ensure that your photos look their best. You may resize, rotate your photos and even view imaging information. These tools are designed for casual photographers and business users who want to improve their photos for prints, emails, presentations and sharing on the Web.

The Content Access Control Module encrypts digital content into images and can restrict access to the embedded content through the use of passwords or registration images. Registration Photos are special images that must first be viewed before users can access content in subsequent images. The CAC module has a built-in encryptor in PhotoViz and a free online encryptor in the Mail ++ portal (www.mailplusplus.com). Content that can be embedded into images are files (e.g. Microsoft Office documents, pdf files etc), URLs, Web-based content (e.g. Adobe Flash), Zip files and Windows applications. Note that the built-in encryptor has a 30 day trial and a licence must be purchased at www.picsalive.com after the trial period.

Active Photo is a novel way of delivering content, web applications quickly and easily through the use of images. Active Photo offers an easier, more intuitive way to view, manage, and share your photos. Currently, there are two implementations of Active Photo: iphone Active Photo (or @Photo) and Active Gallery. @Photo is an iPhone app that enables users to embed media such as messages, location data and audio files into photos. Embedded media, location and the phone's parameters can be accessed by PhotoViz. A free Lite version and a paid version of @Photo is available in Apple's iTunes App Store.


Active Gallery enables users to create their own Photo Galleries and embed them into a single image. Viewers can also view a slide show, rate and add comments to the photo gallery. Active Galleries are created at the online OOOID portal (www.oooid.com) and can be viewed in PhotoViz. The Active Gallery can be viewed by in blogs or users' websites by inserting a few lines of codes. Photos in Active Gallery are secure and can be shared online or offline with friends and family.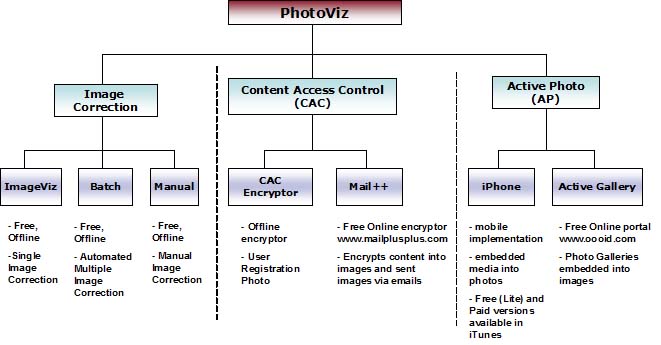 PhotoViz Functional Overview